Here is a painting of Tess done by Elizabeth Kozlowski.
Tess is sitting pretty wearing one of her favourite sweaters.
To commission a painting of your pet please visit her at: http://elizabethkozlowski.com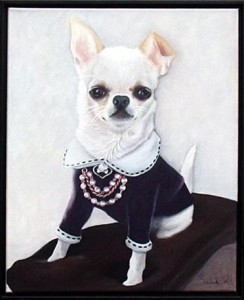 Elizabeth Kozlowski from a very young age knew she wanted to be an artist, and demonstrated an aptitude for visual arts. She grew up in Warsaw, Poland where she learned art history, drawing, ink and watercolor painting, and weaving. As a young woman she made Canada her home and settled in N. Vancouver, where she still lives and works. She studied art at Capilano Collage (now Capilano University) and Emily Carr University.
After years of running a glass painting studio in North Vancouver, Elizabeth now paints mainly oil on canvas, depicting figurative realism with rich yet soft color palette. She specializes in painting portraits of people and animals.Elizabeth is a member of The Portrait Society of America and the North Vancouver Community Arts Council. Some of her art could be seen at the Council's Cityscape Gallery.